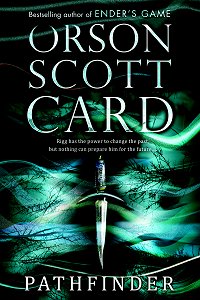 Pathfinder, by Orson Scott Card (one of my favorite authors ever!), is the first book of Card's new Serpent World series. As of yet, we do not know why this is the name of the series, but hopefully we find out in the second book, Ruins, which comes out this November.
Pathfinder is the story about Rigg, a young teenage boy who has a very unique ability: he can see the paths of all living things from the past all the way up to the present. Combined with the special talent of an unexpected friend, he is able to see into the past and even change it! The book starts off with Rigg trapping in the forest with his Father, as they did so often. However, Father's sudden death leaves Rigg all alone, with the task of setting off on a quest to find his unknown sister, according to Father's death wish. Along the way he must also find his own true identity and weed through lies to find the truth about seemingly everything in his life. Is he really only an ordinary poor boy spending each day just trying to survive? Or does he have a much greater destiny?
Meanwhile, at the beginning of each chapter is a tidbit of the story of Ram Odin, an intelligent space pilot with the responsibility of safely transporting a ship full of passengers to their new home planet. However, his undiscovered mental ability throws a interesting curveball into his plans…one that will affect the past, present, and future of this new planet and  just so happens to establish Rigg's own purpose.
Two stories intertwine into one in Orson Scott Card's exciting new novel Pathfinder. If you enjoy science fiction tinged with humor, you would definitely love this book, where Card's creative imagination creates a new world thrown into the chaos of time, with only Rigg and Ram to help it.
And if you do read it or have read it, leave a comment! What do you think will happen next? What happens to Ram? Will Rigg be able to accomplish his even greater task? Let me know what you think!
As always, happy reading!
~Sky:)